This Landscape project was completed in the Perth Suburb of Mount Lawley. As Landscaping contractors we service this area regularly and can also offer the service of Landscape Design.
Our job was to install a new lawn and create a garden bed around the perimeter of the lawn. When we had originally quoted the Landscaping project we had discovered what is fairly typical in Mount Lawley Landscaping jobs and that is very sandy soil. This soil has very little nutrients in it and also will not retain or hold water well. It was obvious we needed to improve what was there. We also had to be conscious of the budget of our client and worked in with them to achieve the result they wanted. We were able to supply smaller plants instead of larger ones which would grow over time and this resulted in a saving.
GOOD SITE PREPARATION IS ESSENTIAL
We dug out the lawn area and removed a good amount of sandy soil in preparation for a good soil foundation to the lawn.
PLANTING WITH GOOD FERTILIZER AND MULCH
We separated the lawn and garden area with designer Hedge Edging.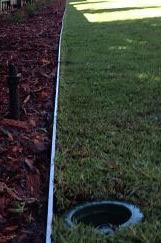 We planted a Lilly Pilly Hedge around the perimeter of the lawn. The plants where small when we planted them but will grow over time. We installed good soil to the plants along with sheep manure and slow release fertilizer. We then mulched the garden beds thickly with Jarrah Wood Chips.
VELVETENE LAWN CHOSEN FOR A SOFT TOUCH AND FORMAL APPEARANCE
We installed a thick layer of good soil to the lawn area and then levelled it out nicely. We then turned on the reticulation (existing) and wet the area down for few minutes to firm it up before laying. Once it was wet down we fertilized the area well with Dynamic Lifter and also ECO PRIME RED which is a slow release fertilizer.
We were now ready for laying the lawn. The lawn type we had decided to go with was Velvetene ( available through Superior Lawns Australia. It has a number of characteristics that people love, one of the main ones is it has a velvet touch and is very soft. It is also very formal looking and can be mown down to 3mm. We installed the lawn and then turned the reticulation on for a few minutes to wet it down. If it's hot it's important to do this when installing as the lawn may have been out all day in the heat and will be thirsty. Once we had done this we then compacted the lawn well to help smooth out any bumps and get rid of air pockets. It helps if the lawn is wet when you compact as otherwise the compactor moves very slowly and can grip on the lawn.
We swept up and then hosed the entire area down including surrounding paths. This is one of the most important parts of the job as presentation is key.
Great result and Happy customers.